Your customers are your tenants. Take care of them. If they succeed, you succeed.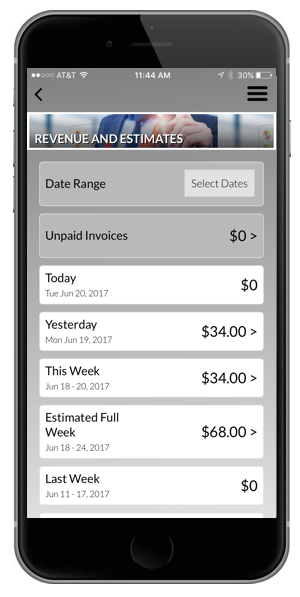 SPECIALISTS CAN NOW KEEP BETTER TRACK OF THEIR REVENUE
The revenue tracking feature that is offered in your S3 powered mobile app was designed to help specialists know not only what they have made in the past, but also what they are projected to make in the future. Future projections are based on appointments that the specialists has set in the app.  This not only helps them, but it also helps you.
Specialists using an S3 powered mobile app have a better way of keeping track of their revenue because it is tied directly to their appointment system.  Do they need to schedule more appointments?  Do they need to do more marketing?  Or, are they doing great and can pay their rent with ease at the end of the week.  Offer them this feature to help them succeed!