People love to text. Offer your tenants a text messenger built just for them!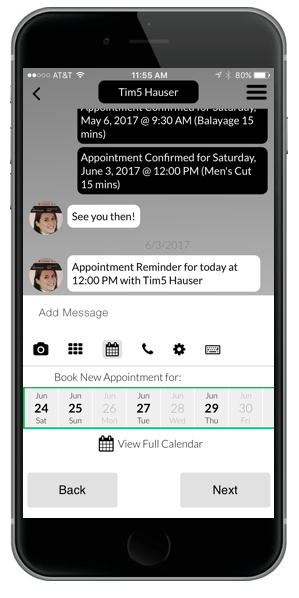 A Text Messenger built for Salon Suite specialists!
We conducted a poll and found that 75% of salon suite specialists use their native text messaging system on their smartphone to schedule appointments. This is not surprising since people love the ease of this type of communication. Today, you have all sorts of different types of text messaging services from WhatsApp to Facebook Messenger. However, there was not a text messenger built especially for salon suite specialists. So we built one!
All of your tenants will find their own private text messenger within their virtual suite, which is found on your mobile app. This messaging system lets the specialist text with the clients; easily toggle between their calendar and text; send pictures, access client notes, and much more!  This also keeps the specialists private life separate from their business.  Plus, their clients love it too!